Project of the North San Mateo County Oral History Archives, Skyline College Library
Student project for LSCI 110 – Digital Oral Research Project, Skyline College
"Making the Move: Marcela Duff"
Interviewer: Ciana David
English 165/LSCI 110
Click here to read the research essay: "Post 1965 Filipino Immigration" by Ciana David
Click on the links below to hear audio segments from a November 2004 interview by Ciana David with her grandmother, Marcela Duff, about life during World War II, and immigration to the United States of America.
Marcela Duff came to the U.S. from the Philippines in 1965 to settle in the San Francisco Bay Area.
<![if !vml]>
<![endif]>
(Marcela Duff revisiting the Philippines after almost 30 years)

1. As a Young Child in the Philippines
2. School Days
12. Life in Review
As a Young Child in the Philippines 
What life was like in the Philippines during the 1930's and 1940's.
How she was able to enroll herself into a public school at the age of seven.
What life was like in the Philippines while the Japanese Army was trying to overtake the country.
How Marcela's father died while he was a Filipino guerilla helping the U.S. military.
What it was like to return from temporary shelters to her hometown.
Attending a prestigious all girls college.
The family business was a small restaurant name after her mother.
How my grandmother and grandfather met and got married.
What is was like to leave your home and children to pursue a better life.
Adjusting to life in the United States was not an easy task for an immigrant family.
Marcela speaks about raising five children on her own.
How Marcela feels about her life today.
<![if !vml]>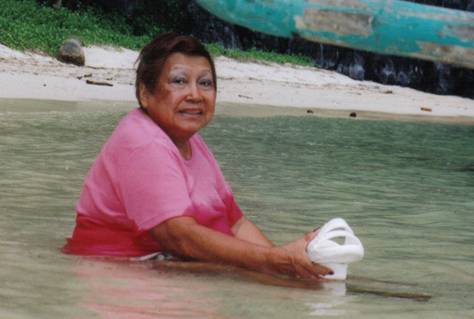 <![endif]>
(Marcela Duff trying to snorkel in the beaches of Palawan, Philippines near the family vacation home.)
*These audio files may be played with Windows Media Player or Real Player.
To download a free copy of Windows Media Player, click here.
To download a free copy of Real Player, click here.
---
last revised: 1-21-05
by Eric Brenner, Skyline College, San Bruno, CA
These materials may be used for educational purposes if you inform and credit the author and cite the source as:
North San Mateo County/ Skyline College Oral History Archives, Skyline College Library.
All commercial rights are reserved. To contact the author, or send comments or suggestions, email: Eric Brenner atbrenner@smccd.net