Project of the Skyline College/North San Mateo County Oral History Archives, Skyline College Library
Student project for LSCI 110 – Digital Oral Research Project, Skyline College
 "The Perseverance of Bill and Vangie Buell in an Inter-racial Relationship"
Click here to read the research essay, "The Significance of Inter-racial Relationships", by Iris Phee
Click on the links below to hear audio segments from an October 29, 2004 interview
by Iris Phee and Marites Gonzales with Bill and Vangie Buell,
 discussing the experiences and hardships of having an inter-racial relationship

1) How Bill and Vangie Buell met.
<![if !vml]>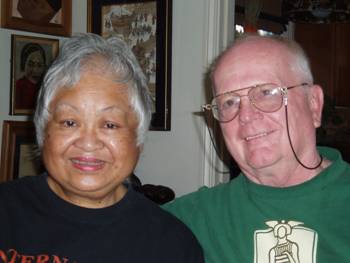 <![endif]>
Vangie and Bill Buell at their house in Berkeley
2) How common inter-racial relationships were back then.
<![if !vml]>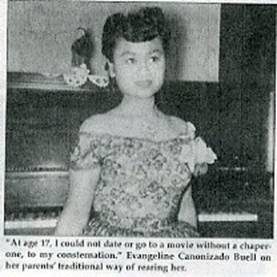 <![endif]>
Vangie Buell at age 17, could not date or go to a movie without a chaperone because of her parents' traditional way of raising her.
3) Vangie's fight against society.
4) And other groups that fought against society.
5) How accepting Mr. Buell's parents are of inter-racial relationships.
6) Vangie's experience with the parents of her earlier husbands.
7) The grandparents accepting their mixed grandchildren.
8) The experiences of racism in the west coast compared to the Midwest.
9) The breaking point of discrimination and miscegenation laws.
10) How Bill and Vangie are able to maintain a healthy relationship.
11) Bill and Vangie's diverse family.
<![if !vml]>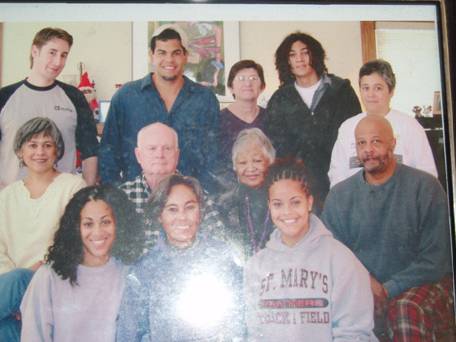 <![endif]>
A picture of Bill and Vangie Buell's family
*These audio files may be played with Windows Media Player or Real Player.
To download a free copy of Windows MediaPlayer, click here.
Todownload a free copy of Real Player, click here.
<![if !supportLineBreakNewLine]>
<![endif]>
---
last revised: 1-21-05
by Eric Brenner, Skyline College, San Bruno, CA
These materials may be used for educational purposes if you inform and credit the author and cite the source as:
Skyline College/North San Mateo County Oral History Archives, Skyline College Library. All commercial rights are reserved. To contact the author, or send comments or suggestions, email: Eric Brenner at brenner@smccd.net