Project of the Skyline College/North San Mateo County Oral History Archives, Skyline College Library
Student project for LSCI 110 – Digital Oral Research Project, Skyline College
<![if !supportLineBreakNewLine]>
<![endif]>
Guillermo Villanueva

Click on the links below to hear audio segments from an April 2005 interview
by Carmen Lescano with Guillermo Villanueva.  Guillermo Villanueva is one of a kind.
<![if !vml]>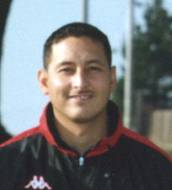 <![endif]>
Click here to read to read the research essay, "Guillermo Villanueva", by Carmen Lescano
4. Transition from Nicaragua to States
Segment 1: Nicaragua
Guillermo Villanueva and his experiences growing up as a young child in Nicaragua
Segment 2: Living and Surviving the War
Guillermo expresses his love for his family, which helped him survive the terrible crisis of the War in Nicaragua.
<![if !supportLineBreakNewLine]>
<![endif]>
Segment 3: Childhood school experiences and more
Guillermo remembers his youthful childhood school experiences
Segment 4: Family support
Transitioning from Nicaragua to States was made easy for Guillermo, thanks to his family.
Segment 5: College, role models and experiences
Guillermo expresses his thoughts regarding College and his love for the role models, who believed in him.
Segment 6: The love of Family
Guillermo expresses his love and thanks to his family who tried to hard to make life easier for him and succeeded in doing so.  He is every so grateful for such a supporting and caring family.
*These audio files may be played with Windows Media Player or Real Player.
To download a free copy of Windows Media Player, click here.
To download a free copy of Real Player, click here.
---
last revised: 5-23-05
by Eric Brenner, Skyline College, San Bruno, CA
These materials may be used for educational purposes if you inform and credit the author and cite the source as: North San Mateo County Oral History Archives, Skyline College Library. All commercial rights are reserved. To contact the author, or send comments or suggestions, email: Eric Brenner at: brenner@smccd.net