Project of the Skyline College/North San Mateo County Oral History Archives, Skyline College Library
Student project for LSCI 110 – Digital Oral Research Project, Skyline College
"Through the years: Angel Viray" by Christopher Marquez

Click here to read the research essay, "Balikbayan Influence",  by Christopher Marquez

Click on the links below to hear audio segments from an October 2004  interview by Christopher Marquez with Mr. Angel Viray, who came to the U.S. from the Philippines in 1964 after he was recruited by the U.S. Navy.
<![if !vml]>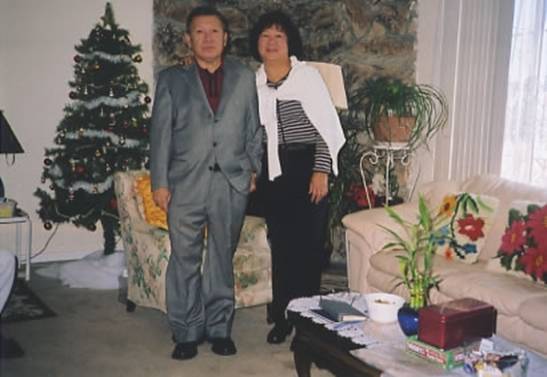 <![endif]>
Filipinos are very fond of parties, here Mr. Viray and his beautiful wife Magdalena
pose for a shot on their way to a gathering.
1. Born in the Philippines
2. Coming to America
3. Minority Treatment in the Navy
4. Discrimination
5. Civilian Life
6. Lifestyles
7. Culture in the past
8. Social climates
9. Acquiring properties
10. Politically speaking
11. Keeping busy
12. Pampangueno Club
13. Homeland assistance
14. Advice on newcomers
<![if !supportLineBreakNewLine]>
<![endif]>

<![if !supportLineBreakNewLine]>
<![endif]>
Where were you born? (794 KB)
A brief narration of Angel's native town in the Philippines and it's proximity to U.S. military bases; Clark field and Subic Bay.

When did you come here?  (950 KB)
Joining the navy at a young age and the privilege of having a U.S. citizen father.
<![if !vml]>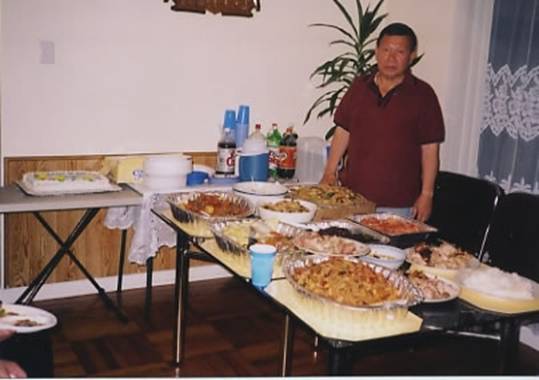 <![endif]>
Mr. Viray is an accomplished chef, he prepared most of the food pictured above. Guests and friends are treated to his magnificent culinary capability. Visitors are always nourished upon leaving his residence.
Minority treatment in the Navy (745 KB)
Angel's experience in the navy, his position and observations.

Discrimination in the Navy (508 KB)
Minimal, isolated discrimination according to his observation, the Filipino positions in the U.S. Navy

Life after Navy stint (976 KB)
What made him decide to stay in the United States. College years and part time work.

Life in the Philippines compared to life in U.S. (1.40 MB)
Talked about life in the Philippines and associated hardships.

U.S. culture back then (3.07 MB)
Talked about the political landscape during his early years in the U.S. and the lack of Filipino politicians.

Social climate now and then (1.59 MB)
Progress and development for minorities, cultural transformation that happened through the years. Filipinos eventually reaching upper echelons, including an appointment as a personal physician of President Clinton.
Acquiring U.S. property (1.19 MB)
His observations and opinions regarding property ownership of minorities.

Politics and War (1.94 MB)
Iraq war, government expenditures and disapproval of  Presidents Bush's administration policies.

Activities now (1.29 MB)
His past time activities, trip to Europe and unique observations exulting San Francisco as a city far superior than famous European cities. Mr. Viray Likes to prepare wonderful meals and on many occasions host's dinner and lunch gathering for many of his friends that are visiting from the Philippines.
<![if !vml]>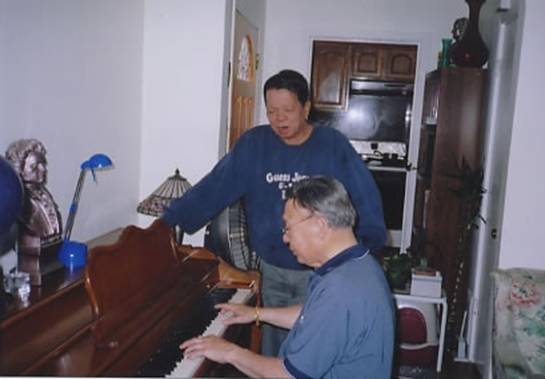 <![endif]>
One of Mr. Viray's passion is playing the piano. He occasionally plays classical pieces from
the old master's such as Beethoven and Bach to entertain guests. 

Pampangueno Club (1.62 MB)
Objective of Pampangueno Club and their activities. Aside from his exquisite culinary capability Mr. Viray is also a great host. Friends drop by on a regular basis because of his charisma and friendly personality as you can see below.
<![if !vml]>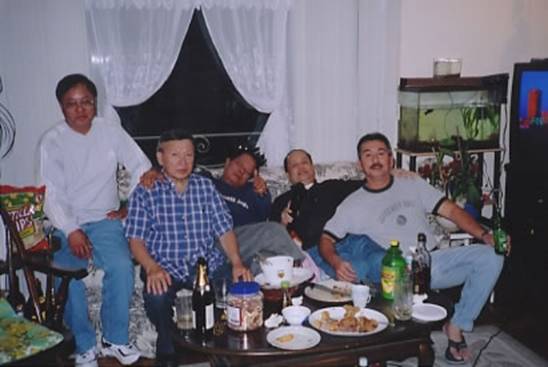 <![endif]>
Mr. Viray and fellow compatriots from his native town of Pampanga taking a break from Karaoke singing!
Club activities in the Philippines (1.66 MB)
Charitable donations to his hometown, Club purpose in Philippines.

Advice on newcomers (904 KB)
Words of wisdom from the man, heed and succeed. Importance of education in youngsters.
<![if !supportLineBreakNewLine]>
<![endif]>
*Theseaudio files may be played with Windows Media Player or Real Player.
To download a free copy of Windows MediaPlayer, click here.
Todownload a free copy of Real Player, click here.
last revised: 1-21-05
by Eric Brenner, Skyline College, San Bruno, CA
These materials may be used for educational purposes if you inform and creditthe author and cite the source as:
Skyline College/North San Mateo County Oral History Archives, Skyline College Library.
All commercial rights are reserved. To contact the author, or send comments or suggestions, email: Eric Brenner at: brenner@smccd.net