Project of the Skyline College Library / North San Mateo County Oral History Archives,
Student project for LSCI 110 - DigitalOral Research Project, SkylineCollege
Joyce Perez: The Struggle to Have a Better Life
By: Stacy Perez
Click on the links below to hear audio segments from an October 2004 interview
by Stacy Perez with Joyce Perez, who immigrated to the United States during her adolescence.

<![if !vml]>
<![endif]>
This is a picture of my mother, Joyce, before her graduation at Mission High School (S.F.),
where her parents could not attend, yet she still had a smile on her face
<![if !supportLineBreakNewLine]>
<![endif]>
Audio:

1. How It All Got Started
Joyce gives information about where she grew up in the Philippines and her family background.

2.Why I Moved To The United States.
Joyce talks about why her and her family moved to the United States and how they moved there.
3. How It Was Like To Live In The U.S.
The United States and the Philippines are two different countries in which she explains to me how different they were.
4. Adjusting To The New Place: The U.S.
Likewise, in order to feel comfortable living in the United States adjustments were made
and here Joyce explains to me what she went thru.
5. The Struggles That Came With Moving
Not only were there adjustments but she had to struggle a little in order to survive.
6. The Struggle Finally Pays Off
Trying to survive in the U.S. was hard, so Joyce worked a job for a long time…
Until she realized she was not getting paid what she was worth… So she started a business….
<![if !vml]>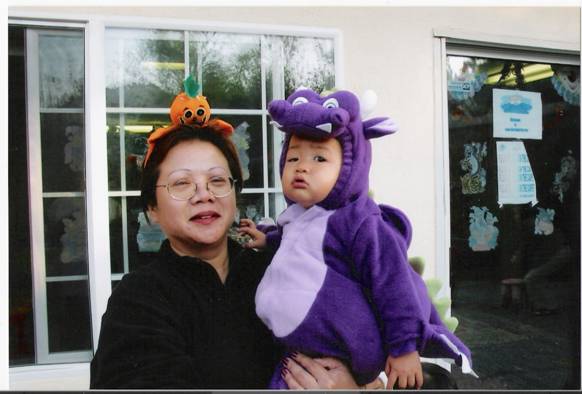 <![endif]>
Joyce and one of her thirteen children at her day care (her business).
*These audio files may be played with Windows Media Player or Real Player.
To download a free copy of Windows MediaPlayer, click here.
Todownload a free copy of Real Player, click here.
---
last revised: 12-17-04
by Eric Brenner, Skyline College, San Bruno, CA
These materials may be used for educational purposes if you inform and credit the author and cite the source as: Skyline College Library / North San Mateo County Oral History Archives. All commercial rights are reserved. Tocontact the author, or send comments or suggestions, email: Eric Brenner at: brenner@smccd.net