Skyline College/North San Mateo County Oral History Archives, Skyline College Library
Student project for LSCI 110 - Digital Oral Research Project, Skyline College
Rikko Jay
.
Click on the play buttons below to view video segments from an April 2012 interview by Kyle R. with Rikko Jay,
who is 26 years old and grew up in the Philippines, but currently lives in San Francisco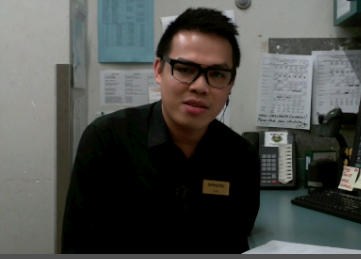 Introduction
Segment 1
Short introduction by Rikko Jay
Family
Video Segment 2

<![if !supportLineBreakNewLine]> History and brief story of family
<![if !vml]><![endif]>
Obligations + Petitioning
Video Segment 3
Brief story of how what his obligations were and how his mother fought for him
Leaving the Philippines
Video Segment 4

<![if !supportLineBreakNewLine]>
<![endif]> Brief story of how Rikko Jay felt leaving his homeland
Video Segment 5

<![if !supportLineBreakNewLine]>
Life in America and how it isnŐt what everyone thinks it is
Dreams in America?
Video Segment 6
Rikko Jay describes his dreams and thoughts
Segment 7

<![endif]>Giving Up Items
Video Segment 7
Brief description on items given up.
Video Segment 8
Daly City
Description of life in Daly City
Careers
Description of career in America
Segment 10
Scared?
Description on moving to a new country
Segment 11
Story and info about balikbyan boxes
Segment 12
More info about his ability to be Petitioned
Segment 13
Filipino Cultural Pride?
Segment 14
Description about his pride for his homeland
Differences between Filipinos?
Segment 15
Brief description on differences between Filipinos in America and the Philippines
Segment 16
Done Anything Different?
Provides info on what he would of liked to of done differently
Segment 17
Conclusion
---
last revised: 5-18-12
by Eric Brenner, Skyline College, San Bruno, CA
These materials may be used for educational purposes. North San Mateo County Oral History Archives, Skyline College Library.
All commercial rights are reserved. To contact the coordinator, or send comments or suggestions, email: Eric Brenner at brenner@smccd.edu