Demonstration Project of the North San Mateo County Oral History Archive, Skyline College Library
Model project for LSCI 110, Digital Oral Research Project, Skyline College

Monica Abello
Executive Director, Pilipino Bayanihan Resource Center, Daly City, CA.
Click on the links below to hear audio segments from an August 2003 interview with Monica Abello.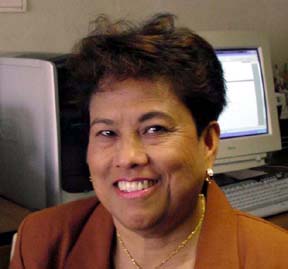 Monica Abello immigrated to the U.S. from the Philippines in 1970.
She worked as a social worker for Catholic Social Services in San Francisco and for San Mateo County from 1980 to 2000
and she has been active in Filipino organizations in Daly City and San Mateo County.
Why I Came to the U.S.
First Job in the U.S.
1950's Discrimination
Cousins Came in 1920's
Discrimination in San Mateo County
Organizing for More Filipino Teachers
"Third Wave" of Filipino Immigration
---
last revised: 10-12-04
by Eric Brenner, Skyline College, San Bruno, CA
These materials may be used for educational purposes if you inform and credit the author and cite the source as: North San Mateo County Oral History Archives, Skyline College Library.
All commercial rights reserved. To contact the author, or send comments or suggestions, email: Eric Brenner at brenner@smccd.edu